[Collection] The Best Short Scout Poems
click fraud protection
Scouting is an extracurricular activity that is often held in schools. Through scouting, many important lessons can be learned such as cooperation, cohesiveness, and the knowledge of others is very important. Here is a collection of the best short scout poems.
Through this poem, he can express the spirit of devotion to the country and the value of cohesiveness among scout members. This poem can be used as a commemoration of National Scout Day which is held every August 14. Let's see together!
Scout Poetry Example 1: Scout Cheers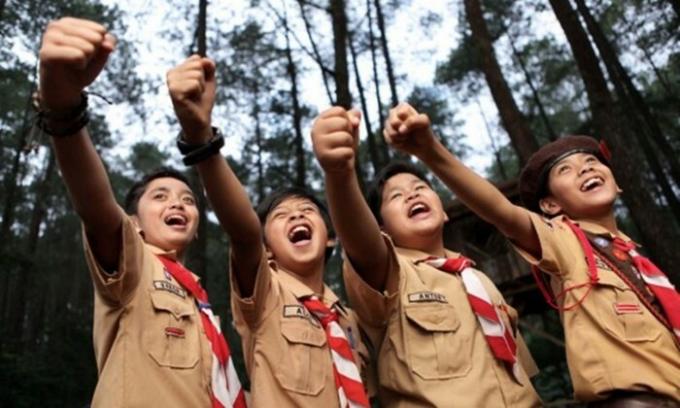 By: Wenny N.Y
I hear cheers from far away
What's going on?
His voice shakes the soul
Makes the heart move to welcome it
That's the voice of the young blood army
Igniting the spirit based on Pancasila
Spirit to unite
Enthusiasm to reach consensus for our beloved country
The crowd is not just any crowd
It's an encouraging yell
Has the deepest meaning and noble ideals
For the Indonesian national movement
Read: Definition of Poetry
Example of Scout Poetry 2: Proud to be Boy Scouts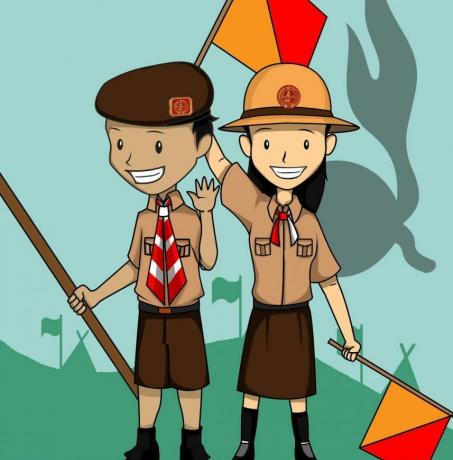 By: Wenny N.Y
Troops in brown uniforms lined up neatly
Puffing out chests ready to fire
I'm a boy scout
I puff out my chest proudly
Scouts, is an independent group
Here, we are taught loyalty
Here, we are taught to help
Not only for fellow members but also for Indonesia
Morse code to help people
The strong ropes are a sign of unity that will not fall
Its brown color blends with nature and protects the surroundings
That's my scout mark, that's my pride
Scout Poetry Example 3: United in Scouts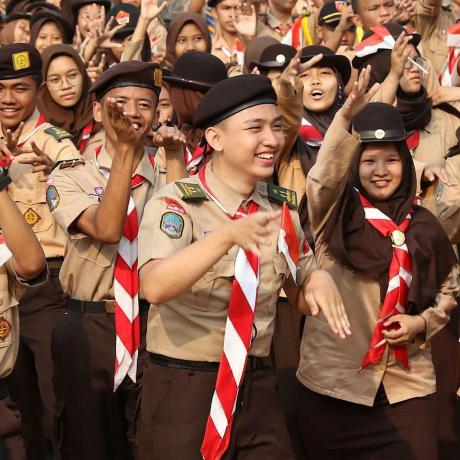 By: Wenny N.Y
That wide field is my place to take shelter
Become a young person who is not spoiled
I and my friends become one
The sweat and heat of the sun can't beat our devotion
Rain and thunder are unable to blow away our sturdy tent
We are too strong to be separated
That's a boy scout
We are willing to leave our comfort to help others
Because you can't live alone
Humans need other people
With the spirit of scouting young souls can unite
With the spirit of scouting, our life is full of spirit
No more sitting and waiting
We are the ones who move and advance
No more fear of facing obstacles
We will advance because together, there is no more fear
Read: 4 stanzas of short mother poems
Example of Scout Poetry 4: In the Shade of Scout Sky
By: Wenny N.Y
It's the same with the sun that meets in the west
The spirit of young civil servants continues to illuminate the country
Sala is the case with the moon that shines in the dark
Young preschoolers help others in trouble
I really love my team members
I really love the primary tutor
Because with him I can hang my dreams
Because Scouts are like the sky where the stars are decorated
Everything is so beautiful like the atmosphere
The heart that is alone becomes full because there is a friend who accompanies
A difficult burden will feel light because the scouts help each other
That's our soul, the spirit full of kinship
Shine and radiate its charm on the beloved earth
Scout Poetry Example 5: The Bonfire That Unites Us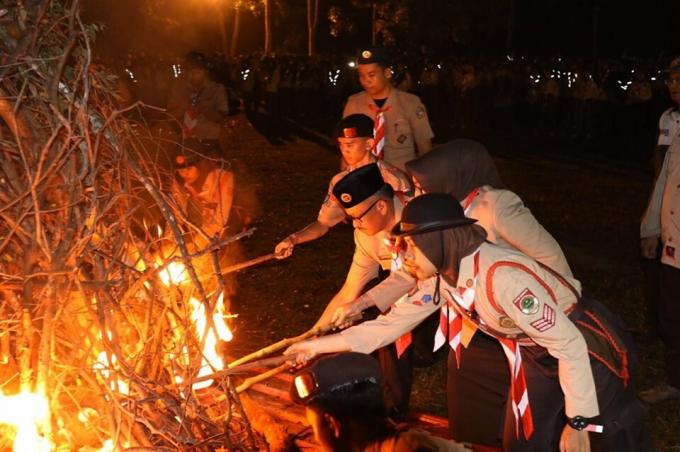 By: Wenny N.Y
The night comes, leaving memories of the sweat of yesterday's day
The struggle of the youth in brown uniform
With many pinned badges
Shows the meaning of a life
Even when the day comes, time keeps pulling away
Leaving a soft and comfortable feeling
Me and us sitting in a circle
Admire the daring bonfire
Silence, only distant daydreams we carve
Reopening the space-time in the past
The fire is the screen
Smiling we stare at the bonfire
After contemplating, it's time to sing
Echoing voices in the middle of the night
Show that we are one voice
The bonfire is the witness
Read: Poems About Teachers
Example of Scout Poetry 6: Scouting Soul in Young People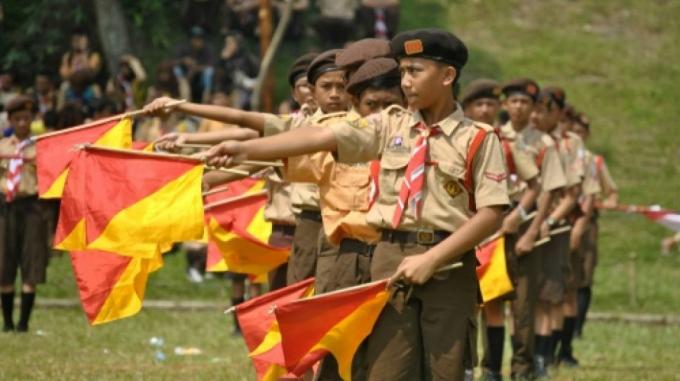 By: Wenny N.Y
The uproar at school
No other day is as thrilling
The rigging is ready
The morse flag is hoisted
That's the day the young blood boils
Enthusiasm radiates from his face
Every child forgets how to despair
Every child forgets what he is afraid of
Explore with me
Serve with me
Achieve our goals and dreams
Because this is the right time to hang your dreams as high as the sky
There are no screams that the boy scouts make
Apart from shouts of encouragement and encouragement
No steps we roar
Apart from the steps of unity and courage
Example of Scout Poetry 7: Sincerity of the Scout Soul

By: Wenny N.Y
Wave your morse flag if you need help
Tighten your rigging if you want to help others
Everything a scout does has meaning
Teaching about humanity that is more meaningful
Boy scouts don't chase degrees
No matter how many badges are attached to his shoulders
Because he is aware, he is not a conglomerate
Because he is aware, doing it sincerely without any reward
His service is only for his beloved country
His dream is to make Indonesia proud
Even though day and night feel tired
Lethargy, sweating, and sores are common
But, his soul is full of fire
Like her determined eyes
The child is the successor of the nation who continues world peace
Presenting the best for bright easy times
Example of a Scout Theme Poem 8: Don't Be Lazy, Look at Boy Scouts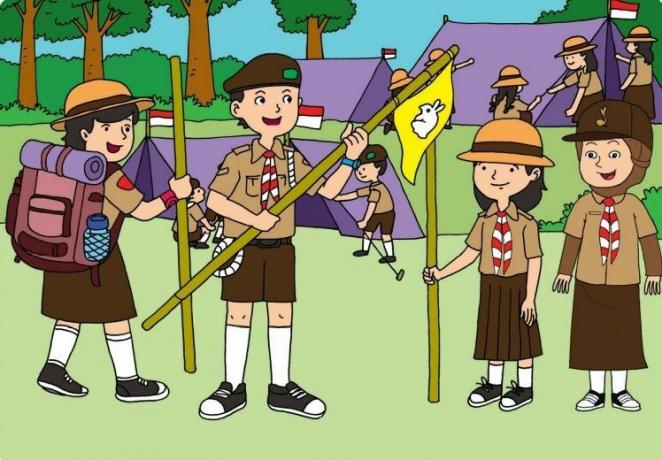 By: Wenny N.Y
Don't be lazy, look at the boy scouts
Ready to stand in the hot sun
Ready to gain knowledge in a wide field
Don't be lazy, look at the boy scouts
Time is used for positive things
The form of dedication to our beloved country
Don't be lazy, look at the boy scouts
Stand up and wave the Morse code learning flag
Run in the forest for strong stamina
Never give up and brave in obstacles
Looking for firewood to survive the cold
Don't be lazy, look at the boy scouts
Superior in strength, strong in brotherhood
It's not easy to be divided like most now
Don't be lazy, look at the boy scouts
His badge indicates how much sweat he has shed
His life is never lazy because boy scouts keep moving towards their goals
Example of Poetry About Boy Scouts 9: Boy Scouts of Steel
By: Wenny N.Y
You are my pride
It doesn't matter if there are other extracurriculars with more fans
Scouts are mandatory for our school
This is not without reason
Scouts are here to shape our mentality
We are no longer weak teenagers
We are ready children who are here to help others
Even though you're still young, there's still a lot to dive into
It's not an obstacle for boy scouts
In fact, build a closer cohesiveness
Breaking down the doubts and fears that often haunt
Not only strong physically but also morally honed
Honesty is always upheld, justice is always echoed
Unity is our first name
I am one of the true boy scouts
Tough personality and mental steel pinned on us
I'm proud to be a boy scout
The collection of scout poems above can inspire you to have the spirit of the scouts' soul, which is firm in your stance, courageous, devoted to the country, and full of the spirit of young people. This poem will also motivate you. Scout salute!